Mt Wellington Community Church was formerly Sylvia Park Chapel.

In June 1995 Ngaire Avenue Bible Chapel was approached by the Elders of Sylvia Park with a request for help. Two Elders from Ngaire Ave met with the Sylvia Park Elders and returned to Ngaire Ave with the recommendation that a small group from Ngaire Ave be set apart to help rekindle the flame that had been burning brightly in the past at Sylvia Park. One of the elders from Ngaire Ave was asked to head up the team to investigate the feasibility of such an undertaking. A prayer time was started with both Sylvia Park and Ngaire Ave folks attending each Sunday morning. It was from this prayer time that the idea of a new fellowship came. It was intended that this new church would not be another Ngaire Ave or a reconstituted Sylvia Park but a completely new creation. Three couples were set aside by Ngaire Ave to move to and be involved with those meeting at Sylvia Park.

On June 30th, 1996 a celebration service was held for Sylvia Park. This was the last service under that name.

On July 7th, 1996 Mt Wellington Community Church started.

We prayed "Lord where do we start, how do we reach into the community?" He answered our prayers when we were approached and asked to start a playgroup for mums in the area. This is going well with regular attendance of 15-20 mothers and 25-30 children. 85% of those attending came from within a 1Km radius of the playgroup's base.

In May 1997 we were able to purchase the property next door (3 Waipuna Road). At the time, this house was the base of our family couselling/resource centre. It later became our community Op-Shop, "Garments of Praise".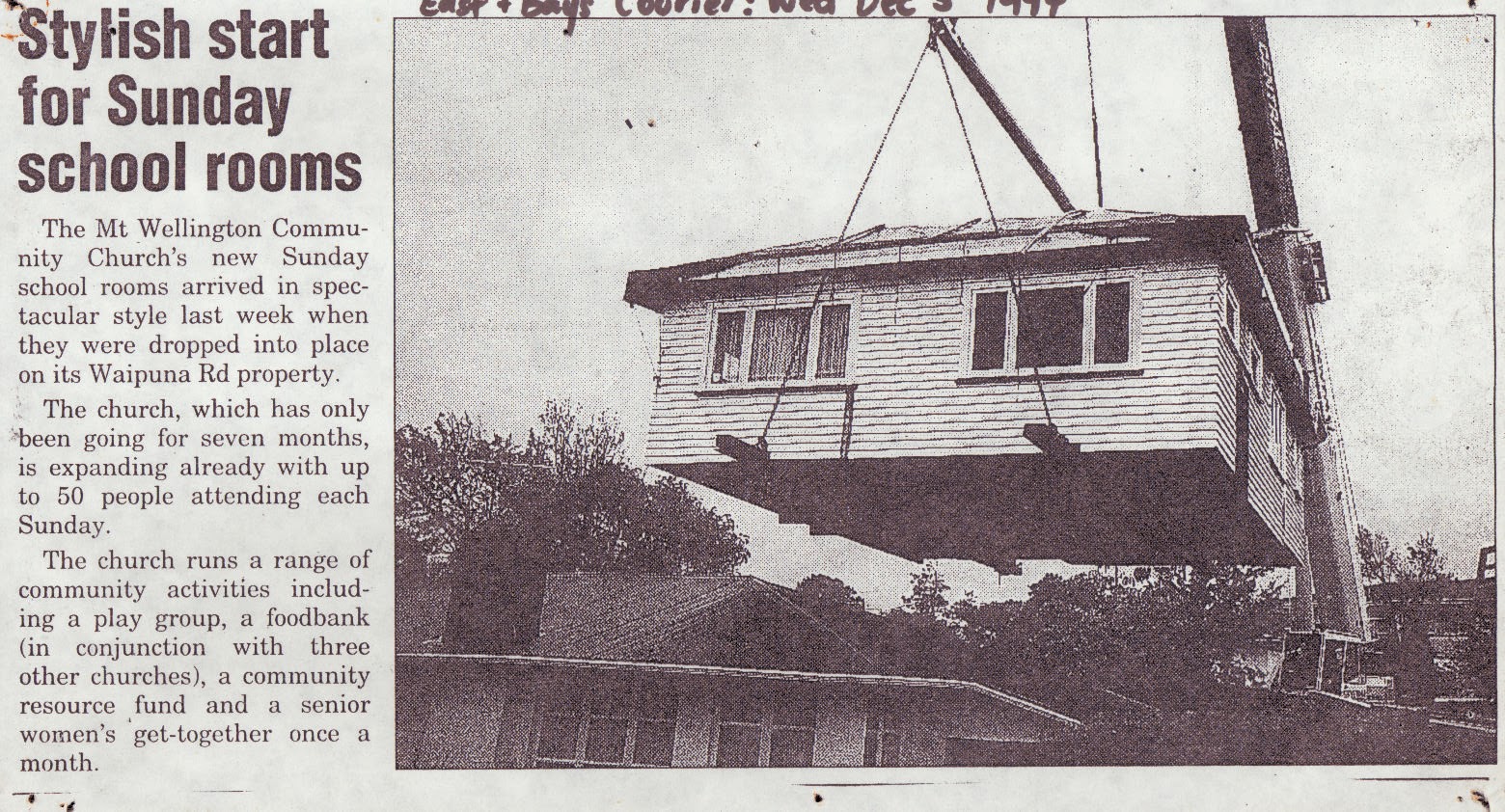 Later in 1997 we were given another house which we had moved into the back of the property and became our children's activity centre. This has been completely refurbished and is linked to the church building by some great landscaping. The landscaping will allow the facilities to be used more.
In 2018 we felt called to reach out to our community in a new way and our Op Shop reopened at the beginning of 2019 as the Te Ao Ngākau Community Centre providing a variety of services to the local community, including free lunches on Tuesdays.
In the present, we are excited about the way God is working in the lives of those in and around our church community.